It's been a bit over a month since we launched Something Wicked, and we've just hit the end of our second arc! If things feel like they're moving pretty fast, that's because they have been. Now that we've gotten a nice taste of the curse squad adventure, we're ready to really hit the road. Things are only going to get more complicated from here, and I hope you all come along for the ride.
In the meantime, I thought we'd do a quick check in and talk about some things going on in the Curse Squad world.
Where are we now?
Believe it or not, we've hit 33k words, which means that we've got more words than Charlie and the Chocolate Factory! That means we're a whole-ass children's novel, except for the violence and swearing, and approximately the same amount of vicious karmic retribution. This is just the end of the second arc, and from here on out, things are going to get more involved and also more exciting as well. I can't say how many arcs there will be in total because of possible spoilers, but suffice to say, at the rate we're going, the story's going to end up taking at least two years to complete (and that's assuming I get faster later on!). We're in this trip for the long haul, friends.
In the past couple of weeks, I've done some finagling with the website to try and get it running faster and better for both us and you guys! They're mostly changes to help us run things under the hood and keep things organized. There won't be any layout changes or other visible differences, but hopefully load times should be a little better in the future (though since we're mostly a text-based website, probably not by a whole lot).
It's holiday season, which means we have more time to work on the labor-intensive stuff like comic number 2. No ETA on that quite yet, but we're still excited to get that out.
Additionally speaking of the holidays, there's no rest for the wicked, so we'll continue updating all through the month. Celebrate the festivities or get away from the folks with some Curse Squad!
Words from the squad
Jesse
I started this story back in February as an impromptu writing project because I thought it'd be fun to write a story about curses. I came up with a party of three characters (three being the most magical of numbers and more relevantly the most manageable number of characters to write at the same time) and a scenario that would allow for an episodic nature, because I can only in-depth plan so much of a story at a time. It's been an interesting experience, to say the least, and not only because my first draft is written directly into Discord for a small audience, and I really do feel extremely fortunate that I've had the opportunity to work with such a supportive group of people.
After about five arcs and 150k words, I decided that this would be a good story to share beyond our little social circle…after a significant amount of rewriting, of course. There's no such thing as a good first draft, but it's at least possible to have a pretty good second draft, which is good because I usually don't publish my writing until everything is finished! But I've hit the point where I feel confident that I know enough of the story to have a handle on the world and overall plot and the eventual end so I won't be scrambling to make things up on the fly as we go forward.
The episodic nature of Curse Squad and its length made it most suited as a web serial, so that's what we went with. One thing turned into another and now we're here, at good old cursesquad.com, designed and run by yours truly. I'm really happy to be writing and releasing this story, and I hope you all enjoy the ups and downs that we'll be going through on this journey very, very soon.
Nya
Hey it's Nya here, I just want to thank all of y'all for coming here and reading Curse Squad! It's been a cool time so far and a part of me can't believe that people are actually paying attention to a project I'm helping out on (not that I don't have faith in the writing, the writing is darn good, I'm just amazed that people have found it). It's been two arcs and more than a month since Curse Squad came out, and well, here's to many more!
Leo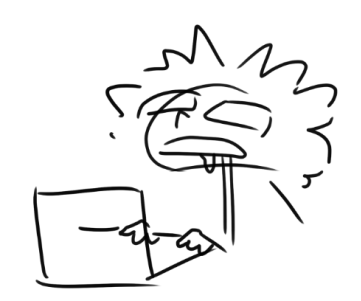 I'm not good at words oh god this is why i draw
The thing with Curse Squad to me is that it's ended up being way bigger than we thought at first. This started as a kind of in-joke and now all the shenanigans are being put on blast in the coolest way. It's fun, and the weekly art posts are great for keeping me making new, less fanart-y stuff.
I'm not good with words so I don't know much else to say but I appreciate you guys taking the time to check this story out. It's been a real highlight of the past year for me and hopefully you folks enjoy following along as much as we're enjoying working on it. Things are about to get really interesting, so stick around! :]
Sphor
What's up readers it's Sphor here :) Thank you all for sticking around to see the story so far! We have quite a lot planned for future updates and we hope you enjoy them when they come ;) what elSE DO I WRITE IT GETS REPETATIVE …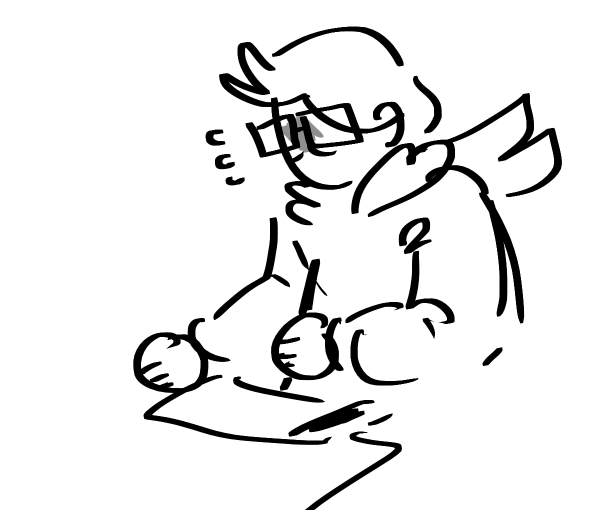 Stay updated!
As always, if you enjoy the story and want to comment on it or talk to other people who like it, come join our official Discord server! For those who don't know what Discord is, it's basically a chatroom like the old days of IRC but with the ability to post media and do voice calls and it's basically the best application of its type these days. It's free to join, of course, and we'd love to see you around! I post the website links on there whenever the website updates, so if you for whatever reason don't like RSS feeds or checking the website periodically, that can be a convenient way to stay up to date.
We're also @curse-squad on Tumblr (mind the dash). Most of the stuff on the Tumblr is stuff that isn't polished or serious enough to go on the official website as well as any fanart we come across and like (and we like most of it!). We have fun with it, so feel free to follow us there!
You can also find us at @curse_squad on Twitter (mind the underscore). We don't have a whole lot of stuff up there at the moment, but we post art on there from time to time as well as other announcements relating to Something Wicked.
If you want to support us, you can check our support us page. We do Something Wicked as a hobby and put a pretty fair amount of time into it, and we believe that the best experience you can get is one that's free of ads or anything like that. The only money we get out of this website for stuff like hosting fees is direct donations from readers like you. If you enjoy Something Wicked and want to give us some dollars, we currently don't have that many options but you can swing by our Ko-Fi page and drop a few dollars. If not, that's fine, too! We hope you continue to enjoy reading Something Wicked here at cursesquad.com, every Monday and Wednesday.